McNeese Presents The Secret Garden
January 30, 2018 | McNeese Public Relations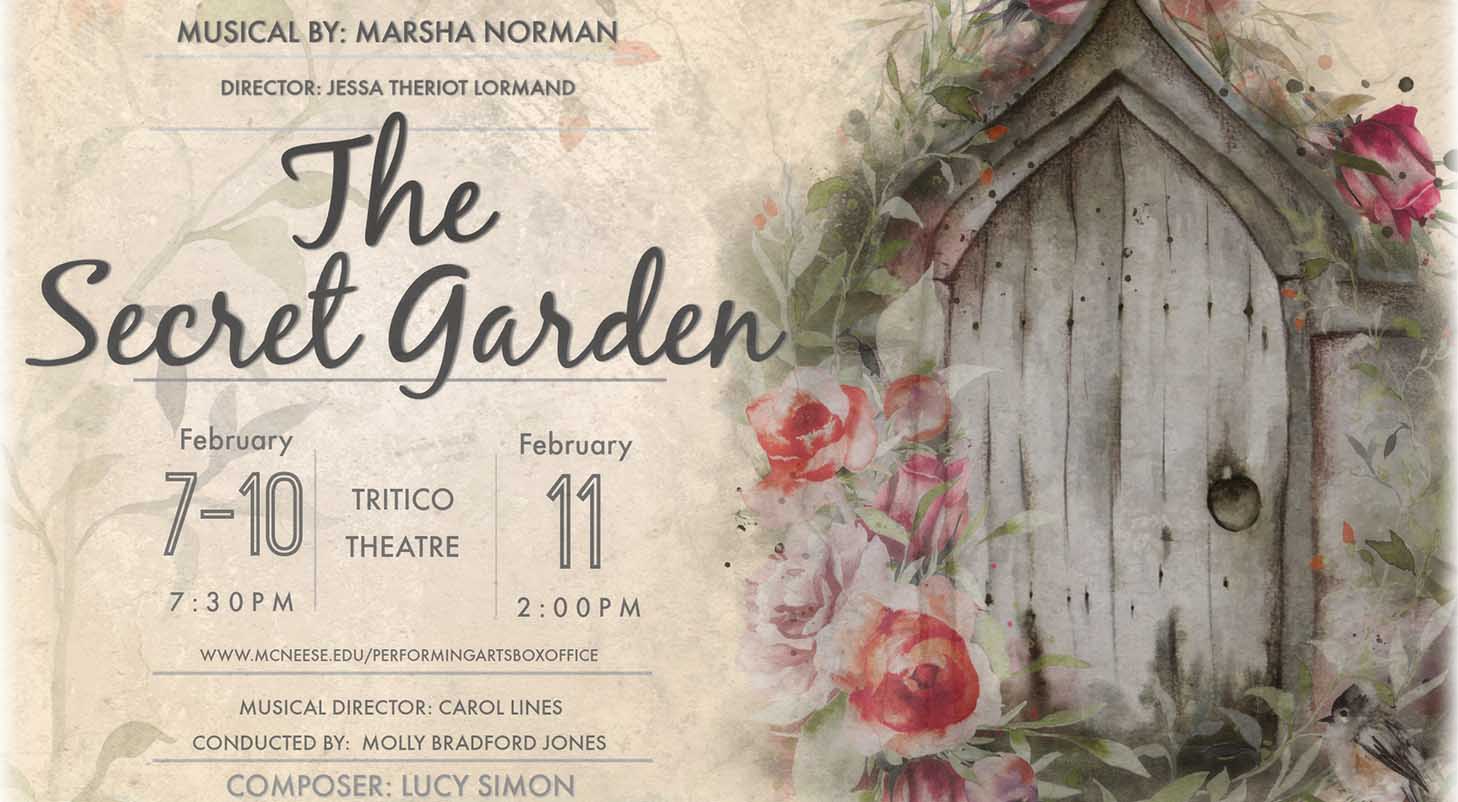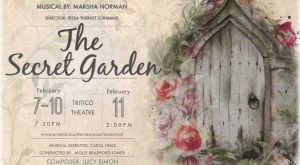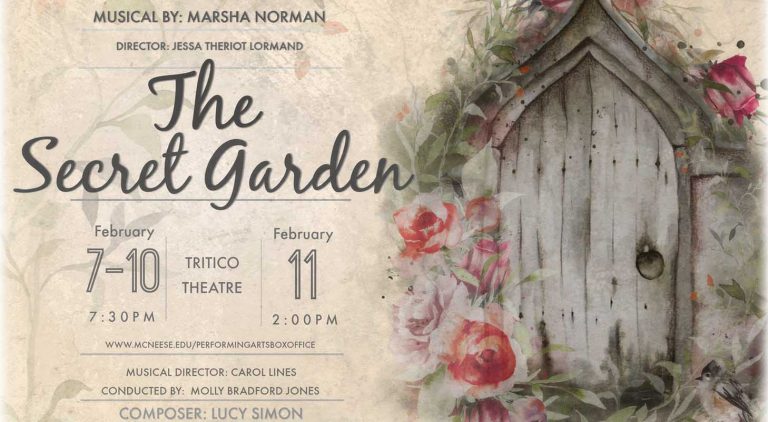 McNeese State University's Department of Performing Arts will present a musical production of "The Secret Garden" Feb. 7-11 at Tritico Theatre. Times are 7:30 p.m. Feb. 7-10 and 2 p.m. Feb. 11.
"The Secret Garden" is a Tony Award-winning musical based on the classic 1911 novel by Frances Hodgson Burnett. The script and lyrics are by Pulitzer Prize winner Marsha Norman, with music by American composer and Grammy winner Lucy Simon.
Set in the early 20th century, the story begins in British-controlled India, where young Mary Lennox is orphaned by an outbreak of cholera that kills her parents. Sent to live with her uncle, Archibald Craven, who resides in a secluded manor on the British moors, Mary struggles to make a place for herself in the unhappy home by bringing to life an abandoned and locked away garden. Determined to revive the beauty that once was, Mary's work to revive this "secret garden" begins to clear away the sadness that covers her new home and her own past, helping her, and her new family, to blossom.
Director is Jessa Theriot Lormand, while Dr. Carol Lines is musical director and Molly Bradford Jones is the conductor.
The cast includes: Amy Phillips, Livingston Texas, as Lily Craven; Kaitlyn Colby, Lake Charles, as Mary Lennox; Heather Partin, Lake Charles, as Mrs. Medlock; Tyler Brumback, Lake Charles, as Archibald Craven; Timothy Smith, Lake Charles, as Dr. Neville Craven; Lara Lignitz Connally, Lake Charles, as Martha; Seth Trahan, Lake Arthur, as Ben Weatherstaff; Mark DeFalco, Lake Charles, as Colin Craven; Jhah Cook, Lake Charles, as Mrs. Winthrop; Romm Silwal, Kathmandu, Nepal, as Maj. Shelley/William; Hannah Lynn Jolivette, Iowa, as Mrs. Shelley/Betsy; Megan Guillory Bourge, Lake Charles, as Rose Lennox; Luke Connally, Ponca City, Oklahoma, as Capt. Albert Lennox; Ella Theriot, Lake Charles, as Alice; Louis Barrileaux, Lake Charles, as Lt. Wright; Dillon Royer, Moss Bluff, as Pvt. Shaw; Evan Seago, Lake Charles, as Maj. Holmes; Rebecca Harris, DeRidder, as Claire Holmes; Joel D. Jacob, Lake Charles, as Fakir; Himshree Neupane, Kathmandu, Nepal, as Ayah; Timothy Curol, Lake Charles, as Dickon; Zoe LeBeau, Lake Charles, as Jane; Clay Corley, Lake Charles, as Clark & Robin; Jennifer Tolbert, Big Lake, as nurse; and Samantha Brunson, Rosepine, Everly Spears, Lake Charles, and  Ryan Bourge, Lake Charles, as children.
Crew members include: Sydney Landry, Lake Charles, stage manager; Jill Engle, Moss Bluff, makeup designer; Abigail Guillory, Westlake, light board operator; and William Lormand, Lake Charles, spotlight operator.
Ticket prices are $15 for adults, $10 for McNeese faculty/staff, senior citizens, K-12 students and teachers, and free for McNeese students with a current ID.
For tickets or more information, call 337-475-5040 or go online at www.mcneese.edu/performingartsboxoffice.
Persons needing accommodations as provided by the Americans with Disabilities Act should contact the ADA Coordinator at 337-475-5428, voice; 337-475-5960, fax; 337-562-4227, TDD/TTY, hearing impaired; or by email at cdo@mcneese.edu.
Want more stories like this one sent straight to your inbox every week? Sign up for our McNeese eNewsletter!
The Office of Marketing and Communications
4205 Ryan Street
Lake Charles, LA 70609
337-475-5640
communications@mcneese.edu