McNeese Dining Promotes Earth Month
April 26, 2018 | McNeese Public Relations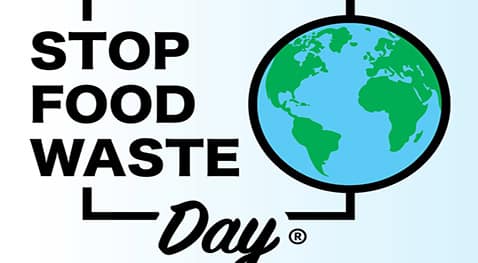 April is Earth Month in celebration of planet Earth.
Forty-eight years ago, Earth Day was established on April 22 to create awareness and appreciation of this planet. And over the years, Earth Day has evolved into Earth Week and Earth Month.
Chartwells Higher Education Dining Services on the McNeese State University campus is participating in several sustainability-focused activities and programs during Earth Month.


Friday, April 27, is Stop Food Waste Day, an international day of action to fight food waste sponsored by the world's largest foodservice company, Compass Group. The campaign's focus is to build awareness of the critical food waste problem and to inspire change.
At McNeese Dining, Chartwells director Jim Graham said sustainability and responsible resource management are valued on campus in the various dining facilities. Several initiatives at McNeese include:
Posters up throughout all dining facilities with tips to stop food waste
Rowdy's cafeteria offers recycling and composting to reduce food waste – one-third of all compost materials are delivered to the McNeese farm twice a week
Customers can bring their own reusable water bottle or coffee mug to the dining hall
To call attention to food waste this week, Graham said students, as well as other campus customers, will be challenged to lower the amount of food waste each day.
"We will average the pounds wasted per day – which we will post – versus the pounds in savings and then donate the average amount saved in dry goods to Abraham's Tent here in the community," said Graham.
And on Monday, April 30, from 11 a.m.-1 p.m. in Rowdy's cafeteria, chef Justin Scarborough will use recyclable materials during his monthly kitchen teaching lesson for McNeese students.
Also, Chartwells has partnered with General Mills in its Bring Back the Bees national campaign and will distribute 500 free packets of wildflower seeds to students, faculty and staff from 11 a.m.-2 p.m. Thursday, April 26, in the Quad.
General Mills is using its cereal product Honey Nut Cheerios and Buzz the Bee to raise awareness that honeybees are now an endangered species and that this directly impacts our food system, according to Graham. General Mills began its Bring Back the Bees campaign in 2017 by giving away 100 million seeds for free and is doing so again this year.
Student volunteers from the Harold and Pearl Dripps School of Agricultural Sciences will hand out the free seed packets as well as about 250 free flower pots courtesy of Chartwells on a first come, first served basis.
"Here at McNeese, Chartwells is committed to promoting environmental and social responsible practices to protect our Earth," Graham said.
Want more stories like this one sent straight to your inbox every week? Sign up for our McNeese eNewsletter!
The Office of Marketing and Communications
4205 Ryan Street
Lake Charles, LA 70609
337-475-5640
communications@mcneese.edu