Investiture and Commencement
December 14, 2017 | McNeese Public Relations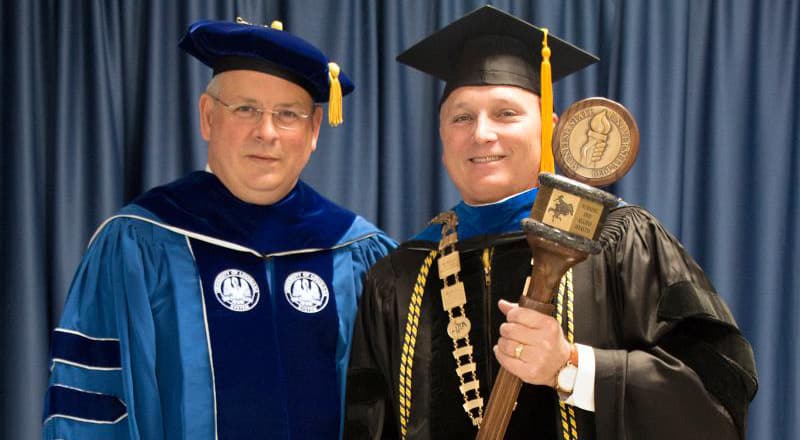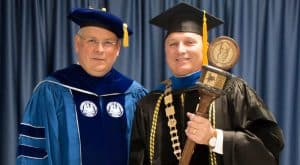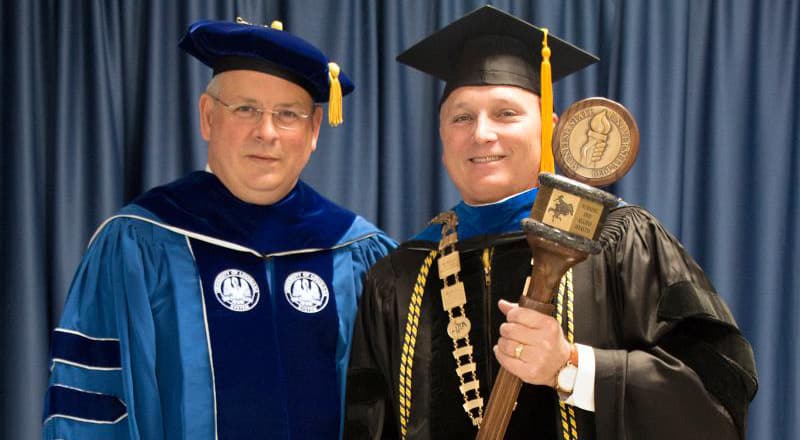 McNeese State University President Dr. Daryl V. Burckel, right, was officially installed as the seventh president of the university by Dr. James B. Henderson, president and CEO of the University of Louisiana System during the 149th commencement exercises held in Burton Coliseum. During the investiture ceremony, Burckel was presented with a traditional symbol of the trust and authority being placed in him – the chain and the medallion. The moment when the chain and medallion are conferred is the investiture. Burckel is also holding the academic mace that has for hundreds of years represented the peaceful leadership of universities in their charge to advance the principles of knowledge and learning. The McNeese mace is carried in the procession of administrators, deans, faculty and graduates at commencement ceremonies each May and December.
McNeese State University awarded 588 diplomas to 577 students at the university's fall commencement ceremony Saturday, Dec. 9, at Burton Coliseum.
Fall 2017 graduates are:
Education Specialist
EDUCATIONAL LEADERSHIP (Online): Amy Marteal Palmer, Ragley; Andrew Anthony Monceaux, Sulphur
Master of Arts
ENGLISH: Chelsea C. Klumpp, Lake Charles
PSYCHOLOGY: Adrienne Nicole Arabie, Church Point; Kelsey Ann Leidig-Hebert, DeRidder; Dominique Michelle Rougeau, Jennings; Heather D. Herpin, Emily M. Hinton, Lake Charles; Joshua Charpentier, Lockport; Kimberly A. Vincent, Meaux; Schlisa Sharonda Washington, St. Martinville; Raven Leigh Wright-Bayle, Orange, Texas; Hanna Marie Prouse Rodriguez, Bremerton, Washington.
Master of Arts in Teaching
SECONDARY EDUCATION GRADES 6-12 [BIOLOGY]: Baylie E. Lee, Mark Anthony Thibodeaux, Lake Charles
SECONDARY EDUCATION GRADES 6-12 [MATH]: Megan Dena Miller, Lake Charles
SECONDARY EDUCATION GRADES 6-12 [SPANISH]: Katherine Annette Fournet, Lake Charles
Master of Business Administration
BUSINESS ADMINISTRATION (Online): Kelby S. Leonard, Longville
BUSINESS ADMINISTRATION: Grant L. Dubroc, Baton Rouge; Morgan L. Authement, Hayes; Olivia N. Babineaux, Devon Thomas Costanza, Kelli A. Fontenot, Morgan L. Guillory, Matthew Stuart Mayo, Lake Charles; Chandrakala Satyal, Jagah, Nepal; Poonam Aryal, Kathmandu, Nepal; Binita Gurung, Rajapur, Nepal; Olufunso Talabi, Lagos, Nigeria; Rebecca Katherine Tudor, Perrysburg, Ohio; Diego David Conde-Zanca, Santa Cruz, Bolivia; Le Thi Hai Nguyen, Hatinh, Vietnam
Master of Education
EDUCATIONAL LEADERSHIP: Jazlyn Elizabeth Thibodeaux, Church Point; Carmen Anne Brown, Crowley; Ashly Brooke Rathburn, DeRidder; Courtney Layne Verzwyvelt, Grand Lake; Chandra D. Broussard, Meagan C. Faulk, Tara Lyn Parra, Anne Monique Brown Reeves, Misty M. Thompson, Lake Charles; Bridget Ann Sonnier, Ragley; Sarah Anne Ferguson Heiss, Westlake
SCHOOL COUNSELING: Amy Nicole Chaisson, Welsh
Master of Engineering
ENGINEERING: Raed El Cheikh, Lafayette; Krista Marie Steinbeiser, Allen, Texas; Mateo Aristizabal, Pereira, Colombia; Soumya Mandava, Nirupama Mangu, Hyderabad, India; Sandeep Chanduri, Visakhapatnam, India; Kien Tri Nguyen, Hanoi, Vietnam
Master of Science
CRIMINAL JUSTICE (Online): Sarah G. Leonards, Bell City; Terry Lynn Milstead, Crowley; Brent Raymond Smith, Kenner; April Marie Lowe Ben, Sarah A. Fuselier, Lake Charles; Brittany Hulett, Opelousas; Brian Phillips, Pineville
ENVIRONMENTAL AND CHEMICAL SCIENCES: Brittany Annette Burke, Lafayette; Gabrielle Louise Basone-Long, Bethany Ann Dilts, Lake Charles; Michelle D. Petrarca, Houston, Texas; Lorin H. Wolfford, Kirbyville, Texas
HEALTH AND HUMAN PERFORMANCE: Sarah Anne-Marie Frischhertz, Baton Rouge; Sarah E. Crowton, Covington; Christin Marie Crader, Trenton B. Fontenot, Jennings; Joy Renee Melancon, Natalie White, Lafayette; Clancy Tye Benton, Andrea Blair Brasseaux, Kimberly A. Cutrera, Victoria Ackley Guidry, Gabrielle Marie Langley, Lake Charles; Kelsey A. Ambrose, Elaina M. Marshall, New Orleans; Deanna R. Jason, Port Allen; Patricia Olivia Chisolm, Ragley; Nicole Lynn Casper, Buna, Texas; Sarah A. Metoyer, Plano, Texas; Christopher N. Braunsdorf, Sugar Land, Texas; Jann Christoph Graf, Chur, Switzerland; Rafah Darwish, Tartous, Syria; Shannon L. Mclellan, Glasgow, United Kingdom; Lauren N. Hawtin, Kidlington, United Kingdom
INSTRUCTIONAL TECHNOLOGY: Billie J. Thibodaux, Church Point; Xi Sun, Zheng Zhou, China
MATHEMATICAL SCIENCES: Dax Daniel Campbell, DeRidder; Tyana Nichole Lavergne, Jennings; Lacey Elizabeth Arabie, Kinder; Elizabeth St. Cyr Castille, Lake Charles; Jennifer Dawn Melancon, Orlando, Florida.
Master of Science in Nursing
NURSING: Anna Faye Reuber, Jonathan Scott Yellott, DeQuincy; Brandon S. Blanchard, Eunice; Michael Ogea, Iowa; Melanie Bousegard White, Jennings; Mary-Alaina A. DeWees, Tressie Annette Vincent, Kinder; Charlotte Ellender Ardoin, Lacassine; Candice Alea Boudreaux, Lauren Brooke Courville, Megan Marie Hebert, Robert Benjamin Johnson, Haley Carrier Landry, Amanda Nicole Partin, Noor Deeb Weckerly, Lake Charles; Matthew T. Khosropour, Michael Stephen Robichaux, New Iberia; Dametra Danielle Savoie Taylor, Opelousas; Amanda Smith Brocato, Shreveport; Kristin Elizabeth Louviere, Kathleen Suzanne McFarlain, Sulphur; Aaran Michelle Parker Gassiott, Rachel R. Mills, Kristen Nicole Murty Voivedich, Nederland, Texas; Dawn R. Polk, Port Neches, Texas
Bachelor of Arts
ART: Eternity C. Lewis, Alexandria; Olivia A. Luke, Franklin; Chance Allen DeVille, Katy Elizabeth Geymann, Kelly N. Lavergne, Lake Charles; Taylor M. Hickey, Orange, Texas; Maegan Ryan Gonzales, San Antonio, Texas; Jessica Theresia, Jakarta, Indonesia
ENGLISH: Alicia A. Rossano, Independence; Amanda Kay Knapick, Kinder; Leatrice M. Hebert, David R. Palmer, Carley Elizabeth White, Lake Charles; Averey D. Hollier, Ville Platte
HISTORY: Leigha Allison Ardoin, Iowa; Paul Russell LeBleu, Lake Charles; Ayanna Brianne Weeks, San Antonio, Texas
LIBERAL STUDIES: Raymond W. Evetts, Gatesville, Texas
POLITICAL SCIENCE: Devin Gunner Jones, DeRidder; Mark Austin Bailes, Rosepine; Gary Lee Blanchard, Sulphur; Ryan R. Tibbitts, Vinton; Akshyata Uprety, Sanepa Lalitpur, Nepal
SOCIOLOGY: Michelle Antoinette Harden, Bastrop; Brittany Nicole Pousson, Lake Charles
SOCIOLOGY (Online): Tanika E'Shaun Charles Stevens, Crowley; Lani Roy, Erath; Javier M. Pennywell, Eunice; Kimbralyn K. Gauthier, Fenton; Tiffany Nicole Morvant, Gray; Danielle Marie Broussard, Gueydan; Kirsten M. Carriere, Hackberry; Jordana Michelle Buxton Mott, Iowa; Daevin Ja'Mira Mouton, Lafayette; Tyler C. Bushnell, Tyrella Bushnell, Tressa Renette January, Dylan Wayne Myrick, Cynthia Leanne Nitsch, Tara Nicole Thomas, Lake Charles; Alexis Breanne LeBlanc, Oberlin; Courtney LeAnn Holmes Ukpabi, Pleasant Hill; Meagan A. Guillory, Sulphur; Brandi Marie Carrier, Vinton Tabitha Danae Broussard Weeks, Vinton
Bachelor of General Studies
GENERAL STUDIES: Elisabeth Marie Perkins, DeQuincy; Kurt Charles Viges, Eunice; Morgan L. Augustine, Fenton; Karissa R. Trahan, Grand Lake; Samantha A. Little, Trevor Wyatt Richard, Lesley A. Sanner, Hackberry; Khenni Rebekah Barr, Lexi S. Doise, Matthew Charles Precht, Shayln O. Riley, Jennings; Dori Lee Bell, Rachael Michelle Butts, Ferin Nichole Clark Tarver, Kinder; Jasmine Nicole Carmouche, Korey Matthew Chapman, Angela Kelton Naquin, Justin John Tolivour, Lafayette; Katherine C. Bennerscheidt, David G. Castillo, Natalie Dawn Corbello, Ashley Margon Crooks, Kaci Elise Berryman Duhon, Taylor E. Edwards, Jenel Ranero Fendley, Shane C. Fontenot, Matthew James Hollingsworth, Jordan Avery Johnson, Katherine M. Jones, Eric W. Peterson, Alexander B. Polansky, Jaclynn R. Reeves, Callen Smith, Molly A. Smith, Aaron S. Verrett, Lake Charles; James Eddie Landreneau, Mamou; Dominique D. Hill, Mansfield; Jalen Anthony Smith, Monroe; Kent Shelby, New Orleans; Zachary Waylon Montou, Oberlin; Isabelle Lynn Boudreaux, Sulphur; Kelby James Hebert, Vinton; Shelby L. Lognion, Welsh; Sharon F. Maddox Billings, Lexie Joyce Ross, Westlake; Caitlyn Rebecca Womack, Destin, Florida; Lucas Nile Connally, Austin, Texas; Breana Lachee' Jackson, Khristian Ke'Oishe Norman, Beaumont, Texas; Betty Jean Cartwright, Houston, Texas; Michael Anthony Reyes, Katy, Texas; Cassey Kelline Boyle, Orange, Texas; Dorian Linette Lonon, Alexandria, Virginia
GENERAL STUDIES [ONLINE]: Morgan Alexis Thibeaux, Bell City; Whitney Ja'rel Constance Dickerson, DeQuincy; Meredith Michelle Jeffery Arceneaux, DeRidder; Jolene Gale Simon John, Hackberry; Lauren Nicole Firmin, Iowa; Christopher Charles Cassidy, Jennings; Jeanine Patrice Blaney, Emily R. DeRouen, Rachael Elizabeth Lonthier, Van Jake Miller, Kailey Sue Venable, Lake Charles; Halie Denise Thompson, Oakdale; Matthew J. Trahan, Ragley;
Kaity B. Breaux, Rosepine; Randall J. Weeks, Sulphur; Ashley Janai Rankins, Fort Belvoir, Virginia
Bachelor of Music
MUSIC: Thomas S. Logan, Eunice
Bachelor of Science
AGRICULTURAL SCIENCES: Alexandria Larae Davis, Bossier City; Garrett K. Soileau, Bunkie; Megan E. Adams, Cankton; Trey Nelson Wayne Neyland, DeQuincy; Franklin Austin Bertrand, Elton; Phillip D. Zaunbrecher, Eunice; David Howard Kershaw, Iowa; Cleveland J. Harrelson, Tracy J. Kendrick, Lafayette; Kelley Ann Cary, Cassidy D. Hornsby, Sara E. Lindsey, Lake Charles; Jonathan P. Fontenot, Mamou; Morgan Elizabeth Watson, Shreveport; Callie Tate Crain, Singer; Brad P. Fontenot, Travis C. Fontenot, Jordan P. Israel, Ville Platte; Kelly Joseph Nielsen, Washington; Haley Elizabeth Seals, Wasco, California; Shawn Eloise Richard, Littleton, Colorado; Jesse Paul Anderson, Unionville, Missouri; Matthew William Daseke, Dallas, Texas; Charles G. Harrell, Silsbee, Texas; Sophiya Maskey, Kathmandu, Nepal
BIOLOGICAL SCIENCE: Angelina M. Hennigan, Jesse Lee Primeaux, DeRidder; Dakota Lane Johnson, Kinder; Morgan R. Bertrand, Sharlatte Celestine, Savannah Claire Mayeaux, Lake Charles; Alessandra Mae Villamil, Sulphur; Owen Montana Sullivan, Dothan, Alabama; Hayden Spencer Guidry, Bridge City, Texas; Navdeep K. Thind, Surrey, Canada
CHEMISTRY: Christinna Ann Becktold, Sulphur; Nischal Acharya, Manju Thapa, Kathmandu, Nepal
EARLY CHILDHOOD EDUCATION GRADES PK-3: Mary-Kate A. Segura, DeQuincy; Andrea Paige Royer, DeRidder; Emily A. Leblanc, Delcambre; Chantrelle R. Brehm, Iowa; Kristen L. Ringuet, Meaghanne Rayshel Viator, Jennings; Alison Kate Sonnier, Kinder; Hannah L. Harless, Haleigh M. Johnson, Lake Charles; Allie Laine Manuel, Oberlin; Shawnda Kay Guidry, Sulphur
ELEMENTARY EDUCATION GRADES 1-5: Jakia Jonique Alfred, Crowley; Camron Ray Taylor, DeQuincy; Holli Morris Abate, Farmerville; Jessica Elizabeth Courville, Olivia Louise Debarge, Rachel L. Key, Jada M. Labove, Lake Charles; Madison L. Chappell, Pamela Elyse Dion, Alexis Grace Nezat, Kerri Elizabeth Racca, Sulphur
HEALTH SYSTEMS MANAGEMENT: Lola Olivia Grichendler, Paris, France
HEALTH AND HUMAN PERFORMANCE, GENERAL: Kinslie B. Denette, Basile; Kieshauna Quinita Clayton, Elton; Nicholas W. Stark, Grant; Whitney R. Gabriel, Damion Christopher Morgan, Lafayette; Leonard Charles Breda, Allyson Rene' Clark, Baylee P. Corbello, Kimberly Nicole Francis, Jeffrey M. Jackson, Taylor Paige Wood, Lake Charles; Taylor Elizabeth Thompson, Mandeville; Khalil D. Thomas, Opelousas; Edmond Rodell Harris, Rayville; Colin Scott Laughlin, Sulphur; Matthew G. Saucier, Ville Platte; Ethan N. McKinney, Samantha A. Rathjen, David William Victory, Westlake; Taylor Suzanne Bestor, Stewartville, Minnesota; Trevion Roberts, Houston, Texas; Aria A. Kelly, Brianna Lovett, League City, Texas; Jontae O'Nell Moreaux, Saratoga Springs, New York; Claire M. Anway, Seattle,Washington; Sawyer Reace Stiller, Walla Walla,Washington
HEALTH AND PHYSICAL EDUCATION GRADES K-12: Raven L. Winslow, Clarence; Ethan K. Demarie, Lake Charles; Natosha Jade Morvant, Mittie
MATHEMATICAL SCIENCES: Ferrin Alexandra Cooley, Reeves; Tyler J. Morgan, Brittian L. Qualls, Sulphur
MEDICAL LABORATORY SCIENCE: Amanda Lynn Godair, DeRidder; Victoria D. Johnson, Glenmora; Dakota Samantha Jade Trauth, Jennings; Mark Travis Schmidt, Lake Charles; Alessandra Mae Villamil, Sulphur; Usha Bhushal, Butwal, Nepal
NATURAL RESOURCE CONSERVATION MANAGEMENT: Nicholas Gregg Forrest Mayeux, Lake Charles; Sadie N. Buller, Ville Platte
NUTRITION AND FOOD SCIENCES: Taylor Joy Welter, Sulphur
PSYCHOLOGY: Jasmyn N. Carswell, Bossier City; Emily Koll Ravia, Hathaway; Allison R. Romero, Johnson Bayou; Stacy N. Guillory, Lacassine; Jordan N. Caldwell, Emily Katelyn Elfert, Austin P. Istre, Aneisia L. Johnwell, Alexandra C. Loftin, Briaunna N. Robinson, Jeremy Matthew Shreve, Brooke D. Smith, Morgen E. Snider, Lake Charles; ShaQuesha Britney Evans, New Orleans; Andrew Joseph Casteel, Karime Garcia-Capetillo, Karina Garcia-Capetillo, Jade Elizabeth McNeil, Austin James Thorne, Sulphur; Trang Theresa Nguyen, Houston, Texas; Savannah P. LaRicci, Sugar Land, Texas; Amna Wardariya, Karachi, Pakistan
PSYCHOLOGY (Online): Teresa Anne Nevells, DeQuincy; Reanne E. Smith, Jennings; Asma A. Ali, Shabrenica Shanique Creque, Casanova D. Fradieu, Lake Charles; Roxy R. Richard, Morse; Kalyn M. McComb Hardesty, Ragley; Jennifer Rae Grams, Calhoun, Georgia; Kanisha Ford, Houston, Texas
SECONDARY EDUCATION AND TEACHING: Stacey K. Devall, Denham Springs
Bachelor of Science in Accounting
ACCOUNTING: Kelsey M. Richard, Crowley; Khadijah Nicole Charles, Lafayette; Christopher Walton Bacarisse, Christian B. Bertrand, Kylie N. Davidson, Kiara C. Duncan, Robert A. Ehlers, Mary Megan Metoyer, Tyler Burton Vincent, Lake Charles; McCall Thibodeaux Monceaux, Longville; Makayla Diane Breaux, Sulphur; Alex Joshua Anugrah Rumondor, Jakarta, Indonesia; Adedoyin Lola Odubiyi, Lagos, Nigeria
Bachelor of Science in Criminal Justice
CRIMINAL JUSTICE: Cory L. Baudoin, Carencro; Drew A. Victor, DeRidder; Caleb Urias Eugene, Jennings; Christy Ameka Babineaux, Anthony Joseph Bercier, Lake Charles; Benjamin F. Burnham, Leesville; Jermaine Antoine, Loreauville;
CRIMINAL JUSTICE (Online): Miranda Ann LeBlanc Young, Basile; Courtney Michelle Shiel, Carencro; Anthony A. Baccigalopi, Creole; Megan N. Nieves, Adam Frederick Wentzel, DeRidder; Trevor L. Talbert, Fenton; Annslea T. Whiddon, Hornbeck; Michael G. Miller, Lake Charles; Khandice L. Taylor, Oil City; Audric Rodriguez Coleman, Shreveport; Amber Pascale Downs, Westlake
Bachelor of Science in Computer Science
COMPUTER SCIENCE: Khoi Ann Ky, Abbeville; Phuong D. Ho, Kinder; David A. Weckerly, Lake Arthur; Joseph L. Green, Wade Hedlesky, Jonathon Elston Ogea, Lake Charles; Garrett Ryan Benoit, Roanoke; Zackary A. Hermsen, Tyler J. Morgan, Sulphur; Joseph Patrick Debartola, Wichita, Kansas
Bachelor of Science in Engineering
ENGINEERING: Seth Taylor Matte, DeQunicy; Andrew D. Giglio, Gretna; Kelli Rae Van Norman, Kinder; Benji Istre, Lake Arthur; Louis E. Barrilleaux, David L. Crawford, Keeslon Ken-Trel Fontenot, Joshua R. Landry, Megan M. Naquin, Sarah Abigail Soileau, Stephen Vega St. Michael, Shadi K. Taha, Lake Charles; Lee G. Butler, Rosepine; Marcie L. Michalko, Sulphur; Emily R. Bergeron, Ville Platte; Evan Lane LeBouef, Garrett Emile Picou, Westlake; Sebastian Vargas, Chino Hills, California; Dakota A. Breaux, Pearland, Texas; Yiwei Xi, Zheng Zhou, China; Yilin Du, Zhengzhou, China; Janneth Chanita Correa Silva, Quito, Ecuador; Santosh Ghimire, Nawalparasi, Nepal; Osamah Nasser Nuwisser, Riyadh, Saudi Arabia; Ahmed Saleh Hasrim, Yanbu, Saudi Arabia
Bachelor of Science in Finance
FINANCE: Christopher Walton Bacarisse, Robert A. Ehlers, Bryan Mark Reece, Lake Charles; Makayla Diane Breaux, Sulphur; Alex Joshua Anugrah Rumondor, Jakarta, Indonesia; Soniya Maskey, Kathmandu, Nepal; Abdulaziz Khamis Mareai Al Katheri, Riyhad, Saudi Arabia
Bachelor of Science in General Business Administration
GENERAL BUSINESS ADMINISTRATION: Barron Walker Brown, Dry Creek; Alex Jude Trahan, Gueydan; Patrick D. Benoit, Shelby Nichole Parisey, Lake Charles; Whitney Leeann Foster, Newton, Texas; Dimitrios Panagiotidis, Thessaloniki, Greece
Bachelor of Science in Mass Communication
MASS COMMUNICATION: Alexis N. Ware, DeQuincy; Querencia Ciera Joshua, Donaldsonville; Victoria Ann Burge, Iowa; Miranda E. Ashton, Basha A. Celestaine, Lynlee Morgan Flakes, Elizabeth E. Latil, Allison Hope Livingston, Lake Charles; Darius Johnson, Leesville; Jaci Theresa LeBlanc, Lutcher; Andrew Jason LaCour, New Orleans; Lakyn Renee McNabb, Welsh; Jazmin F. Franco-Farraj, Visalia, California
Bachelor of Science in Management
MANAGEMENT: Trabari Marquise Bradley, Clarence; Jerome Kirk Perron, Kristi D. Thibodeaux, Eunice; Canaan J. Delhomme, Gueydan; Tanner Craig Buller, Iowa; Ne'Handra Travon DeRae Edwards, Jeanerette; Chace K. Champagne, Emily Kay Garcia, Joseph T. Guidry, Jacob R. Lee, Jairus Jeremiah Robinson, Ibrahim Khan Swati, Lake Charles; Joseph C. Lissard, New Iberia; Angelina Elise Vita, Sulphur; Nasser Ali S Alqhtane, Saudi Arabia; Morgan Alyse Petri, Nashville, Tennessee; Mason T. Mize, Montgomery, Texas
MANAGEMENT (Online): Kaleb Ryan Hollie, DeQuincy; Kelly Renee Blackmon, Winter Ixshelle Mathews, DeRidder; Pearl Russchelle Overhultz, Denham Springs; Halee A. Sullivan, Grand Lake; Kelcie A. Evdokimoff, Gueydan; Ariel L. Thigpen, Iowa; Robbie Kayeshon Haley, Jennings; Wilfred Clophus, Kara K. Witsman Fontenot, Stephanie Danielle Abshire Lavergne, Donna L. Martin, Laura Lee Martin, Ramona Elizabeth Orsot, Lake Charles; Raven Jacquelle Frank, Mamou; Torin R. Burns, Marrero; Jonathan Cade Cutrone, Morgan City; Alexis Germaine Bernard, Mossville; Alexis N. Blackwelder, Kara Elise Hebert, Sulphur; Robert E. Acord, Marion, Indiana; Christy Mingus Williams, Houston, Texas
Bachelor of Science in Marketing
MARKETING: Kelcie A. Evdokimoff, Gueydan; Libby Michelle Peet, Lacassine; Courtney Sharelle Bradley, Lake Charles; Sarah Dorn, Pineville; Darrell L. Spivey, Tupelo, Mississippi; Asami Takeda, Sapporo, Japan
Bachelor of Science in Nursing
NURSING: Macie Laine Fontenot, Basile; Natalie R. Johnson, Church Point; Josef C. Schmid, Malayshia Z. Wilridge, Crowley; Shauna Marie Sonnier, Delcambre; Jenna Nicole Smith, Estherwood; Leanne E. Hargroder, Eunice; Samantha Leigh Clement, Iota; Caitlin Audrey-Rose Arrington, Megan Diane Stephenson, Iowa; Andrew Richard Lamb, Haley Michelle LeBlanc, Jennings; Jakayla M. Broussard, Kaplan; Rebecca Anne Blazek, Bailey A. Bruchhaus, Erin A. Casey, Madalyn L. Chaumont, Andrea Beth Cormier, Jenel Ranero Fendley, Ellen Janee Fontenot, Timothy G. Griffen, Victoria G. Lantz, Carol Ann Martin, Destenie Rochelle Mayo, Kollin James Mouton, Malorie M. Richard, Lake Charles; Skyler T. Dugas, Mermentau; Laurie B. Leblanc, Midland; Jared Levi Brabham, Oakdale; Jordan Aaren Bailey, Oberlin; Hannah Michele Veillon, Rayne; Jennifer N. Davis, Shreveport; Marie V. Abell, Slidell; Olivia A. Kelly, Morgan G. LeDoux, Allison Anne Lee, Regan Ann Thrasher, Kayley Elizabeth Viator, Shannon Elaine Williams, Sulphur; Leah B. Fontenot, Macie D. Lafleur, Bailey Sis Tate Ortego, Ville Platte; Kourtney Allyson Leblanc, Welsh; Whitney M. Campbell, Lumberton, Texas; Kalei E. Manuel, Spring, Texas
NURSING – RN to BSN [Online]: Paula Louise Gary, Crowley; Paiton Renee Andrepont, DeQuincy; Lashanda Denise Allen, Lafayette; Krystal G. Hargrave Boudreaux, Morse; Kayla Renee Dailey, Sulphur; Maria Cecilia Velazquez, Beaumont, Texas; Victoria Gonzales Barber, Houston, Texas; Ginger Lee Coburn, Sour Lake, Texas; Trina Vidrine, Francis, Utah
Associate of Arts in Paralegal Studies
PARALEGAL STUDIES: Lana Elizabeth Benson, DeRidder; Allie T. Guillory, Iowa; Kathyrn Madison Hile, Kiara S. Mumford, Lake Charles; Morgan Chantel Corbello, Vinton
Associate of General Studies
GENERAL STUDIES: James P. Schraven, Anacoco; Robert N. Fontenot, Basile; Caleb M. Miller, Berwick; Querencia Ciera Joshua, Donaldsonville; Trevor M. Derouen, Gueydan; Allie T. Guillory, Karolyn Ann LaCour, Iowa; Abigail M. Buxton, Yao Chen, Kandace O. Coleman, Darian Denese Ewing, Jessica Jeanette Moseley, Stanley Wade Shelton, Nina M. Sonnier, Kenya R. Thomas, Lake Charles; Christopher Carl Friend, Longville; Herman Marigny, New Orleans; Morgan O. Goudeau, Pine Prairie; Lee G. Butler, Rosepine; Kennon DeMarco Thompson, Welsh; Gregory Scott Askew, Orange, Texas; Faisal Hamoud M. Almazeani, Waleed Mohammed S. Alshammri, Hail, Saudi Arabia
GENERAL STUDIES AGS (Online): Dorothy R. Cantrell, DeRidder; Jessica Ann Dupuis, Sara Katherine Williams, Lake Charles
The Office of Public Relations and University Events
4205 Ryan Street
Lake Charles, LA 70609
337-475-5640
publicrelations@mcneese.edu