Fall 2017 McNeese Commencement and Presidential Investiture Set
December 11, 2017 | McNeese Public Relations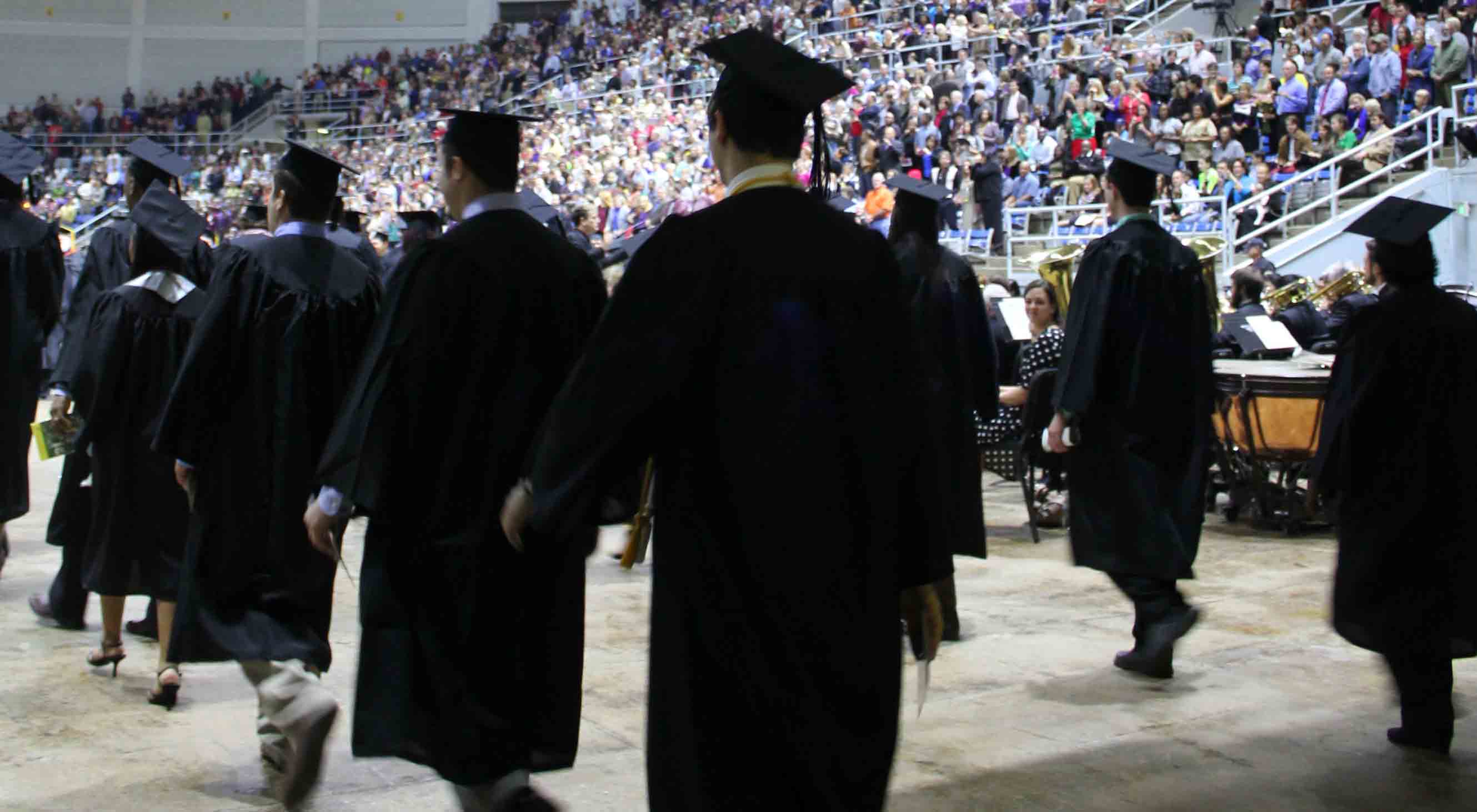 With traditional pomp and circumstance, McNeese State University will hold its fall commencement ceremony at 10 a.m. Saturday, Dec. 9, at Burton Coliseum.
At commencement, McNeese President Dr. Daryl V. Burckel will officially be installed as the seventh president of the university by Dr. James B. Henderson, president and CEO of the University of Louisiana System.
During the investiture ceremony, Burckel will be presented with a traditional symbol of the trust and authority being placed in him – the chain and the medallion. The moment when the chain and medallion are conferred is the investiture. Investiture simply means to invest the president formally with the authority and the proper symbols of office.
On April 20, 2017, Burckel was selected to serve as president of McNeese by the Board of Supervisors for the UL System. Burckel, with more than 31 years of experience in higher education, took office on July 1, 2017.
The 2017 fall graduating class will be the first to "Geaux Blue" at this commencement with undergraduate students wearing newly designed blue robes and caps and graduate students wearing traditional black caps and robes. The blue robes will feature the McNeese "M" on the front while the black robes will feature blue piping down the front and the McNeese seal.
This year's class includes over 600 candidates from 37 parishes, 17 states and 18 countries, and 626 degrees will be awarded, including 30 associate degrees, 475 bachelor's degrees, 119 master's degrees and two educational specialist degree.
Dr. C. Mitchell Adrian, interim provost and vice president for academic and student affairs at McNeese, will preside over the commencement ceremony and the conferral of degrees on the candidates.
Kevin Caldwell, president of the McNeese Alumni Association, will address the students on behalf of the association.
Several honor graduates will also be recognized during the ceremony. They are designated as summa cum laude (3.90-4.00), magna cum laude (3.70-3.89) and cum laude (3.50-3.69).
The presentation of degree candidates will be announced by John Bridges for the six colleges, the Doré School of Graduate Studies and the Department of General and Basic Studies.
Lindsey Bower, a Lake Charles junior vocal performance major, will lead the students and audience in the alma mater.
All family members and guests attending Saturday's commencement ceremony are encouraged to arrive early. Burton Coliseum has a maximum number of seats, and once the audience reaches capacity, late arriving guests will remain outside until other guests leave and seats are available. This is for the safety and security of all guests and graduation candidates and to comply with Fire Marshal regulations.
Want more stories like this one sent straight to your inbox every week? Sign up for our McNeese eNewsletter!
The Office of Public Relations and University Events
4205 Ryan Street
Lake Charles, LA 70609
337-475-5640
publicrelations@mcneese.edu