2018 Spring Fling Set on McNeese Campus
April 16, 2018 | McNeese Public Relations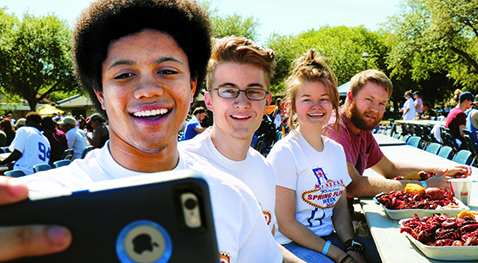 Spring Fling 2018 hits the McNeese State University campus for students April 15-19 with several events planned throughout the week.
This year's Spring Fling will include a bowling night, bubble soccer, a variety show, community service and Rowdy's Barbershop.
Dave Kelly, a professional speaker, trainer, motivator and team builder, will be at McNeese on Wednesday, April 18, to talk to students about how to develop their leadership skills, run their campus organizations more effectively and become serving leaders. He is an associate member of the Association for the Promotion of Campus Activities (APCA) and is the founder and national coordinator of APCA's community service initiative APCA Serves!
The week concludes with the annual spring crawfish boil, as well as a live DJ, performers and novelties. The McNeese Student Life Coalition sponsors this event.
Calendar of events:
Sunday, April 15
Bowling ½ Nighter
9 p.m., Petro Bowl
Monday, April 16
Bubble Soccer
Noon-5 p.m., Quad
Tuesday, April 17
Variety Show Night
6 p.m., Old Ranch
Wednesday, April 18
Servant Leadership & Community Service Experience
9 a.m.-1 p.m., New Ranch
Rowdy's Barbershop (Hosted by Multicultural Engagement)
3 p.m., Housing Clubhouse
Student Leadership Speaker Dave Kelly
5 p.m., Parra Ballroom
Thursday, April 19
Spring Fling Crawfish Boil
3 p.m., Quad
The Office of Public Relations and University Events
4205 Ryan Street
Lake Charles, LA 70609
337-475-5640
publicrelations@mcneese.edu