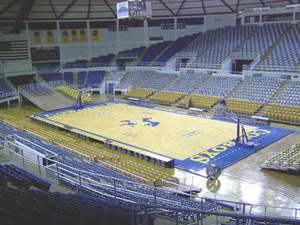 Burton Coliseum
7001 Gulf Highway, Lake Charles, LA 70607
(337) 562-4040 Main Office
(337) 562-4070 Ticket Office
The Burton Memorial Coliseum Complex is under the operation of McNeese State University and has four full-service buildings. The complex was constructed in 1976 with tax money voted on by the residents of Calcasieu Parish on land donated by the late W.T. Burton. The Coliseum itself is a domed arena with permanent seating for 6,500 and temporary seating for another 2,000. The roof of the dome is 105 feet high, with over 24,000 square feet of concrete floor space, and the building is air conditioned and heated.
The H.G. Chalkley Room, a banquet-style room in the coliseum, can seat 200 people comfortably and is available for any number of activities. Another part of the Burton Complex is the 160,000 square feet of floor space in the Livestock and Exhibit Building.
A massive roof covers four acres of excellent facilities for beef, swine, sheep and horses, as well as judging areas, additional pens and a show office. Each livestock area has its own grooming area, complete with water and electrical service. The fourth part of the complex is the Burton Agricultural Arena, a 50,000 square foot, covered arena with seating for 1,000 people.
The facility is excellent for equestrian and rodeo events with sound and lighting, restrooms and a concession area. The four parts of the Burton Complex can be utilized together or separately and work well together. The entire Burton Complex is situated on 65 acres and has parking for 3,500 vehicles. An added convenience is the recreational vehicle hookups available for 275 units. All hookups have electricity, water and sewerage.
The Burton Coliseum is located approximately three miles south of the McNeese State University campus and Interim General Manager Jared LeBlue is the director of the facility. The Burton Coliseum Complex was designed to allow for maximum adaptability to your needs. The complex is one of the most adaptable facilities in the state, and if you're looking for a versatile space, the Burton Coliseum Complex offers that and so much more.