Department of Psychology Faculty
Dr. Dena Matzenbacher, Ph.D. – Department Head
Dr. Dena Matzenbacher earned a bachelor of science and a master of arts degrees in psychology from Stephen F. Austin State University, and a master of science and doctorate in experimental psychology from Texas Christian University. She joined the McNeese Psychology Department in August, 1999, and has served as department head since August, 2005. Dr. Matzenbacher's research background is in the field of child and human development, with special interests in socioemotional development, parenting issues, pet interactions, media influences, social support and the development of psychopathology. She is a member of the Southwestern Psychological Association, Society for Research in Child Development, and the Society for Research in Human Development. Additional activities include serving on the Board of Directors for the Lake Charles Children's Museum and assisting with Critical Incident Training (CIT) for local law enforcement officers.

Dr. Carl Bartling, Ph.D.
Dr. Bartling received a doctorate in cognitive/experimental psychology from Kansas State University. He also completed a two-year post doc in clinical/social gerontology and another brief post doc in industrial-organizational psychology. He has taught for over 30 years with the emphasis in research/statistics. He has conducted research in a wide variety of research topics, including human learning and memory, attention deficit disorders, sexual harassment and program evaluation. He is the founder and editor of the electronic psychology journal, American Journal of Psychological Research.

Dr. Linda Brannon, Ph.D.
Linda Brannon, Ph.D., joined the Psychology faculty at McNeese State University after receiving her doctorate from the University of Texas at Austin. She is currently a Professor of Psychology at McNeese, where she teaches a variety of courses in the undergraduate and graduate curricula. In addition to teaching courses, she has authored textbooks, including Psychology (9th edition, with Lester Lefton), Health Psychology: An Introduction to Behavior and Health (7th edition, with Jess Feist), and Gender: Psychological Perspectives (5th edition). Dr. Brannon is a licensed psychologist in the state of Louisiana and the 1998 recipient of the McNeese Alumni Association's Distinguished Professor Award.
Applied Behavior Analysis Core Faculty
Nidal Daou Ph.D., BCBA-D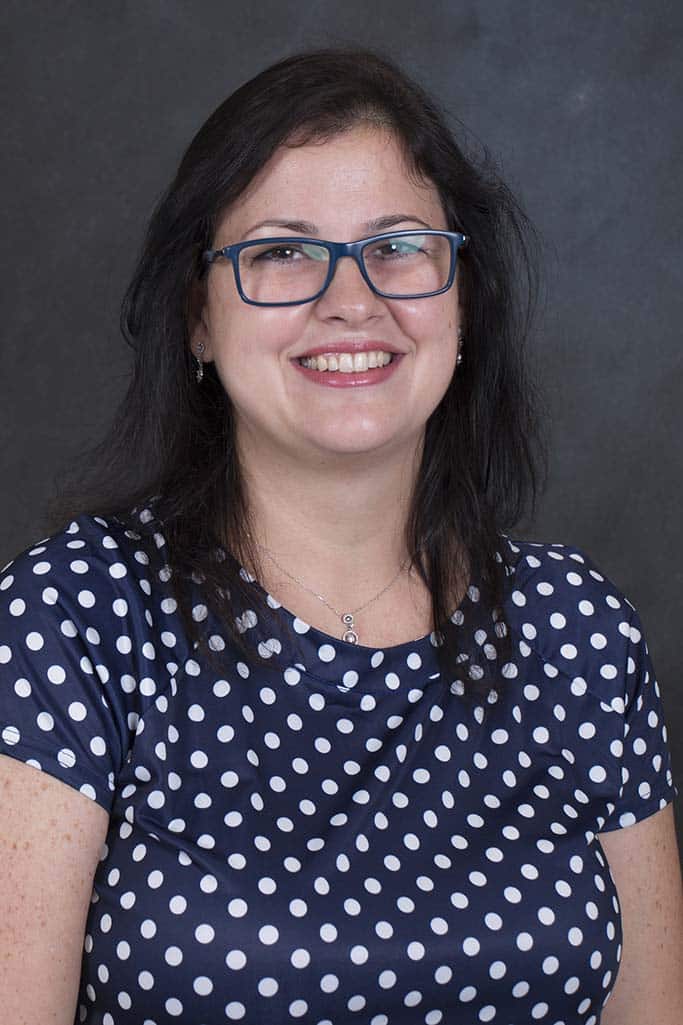 Dr. Daou is an Associate Professor and VCS coordinator in the Department of Psychology at McNeese State University. She received her Bachelor's degree from the American University of Beirut (AUB) and Master's from Queens College of the City University of New York (CUNY). She received her Ph.D. in Psychology from the Learning Processes and Behavior Analysis subprogram at the Graduate Center, CUNY. Her research is concerned with social interaction and independent engagement among children with autism, and cross-cultural conceptions of autism. Her clinical experience started at the New York Child Learning Institute, which is a dissemination site of the Princeton Child Development Institute. There, she administered and supervised service provision for children and youths with autism, and developed and implemented individualized educational programs. Upon completion of her Ph.D., she returned to her hometown of Beirut, Lebanon, where she introduced Applied Behavior Analysis (ABA) to her students at AUB, developed and coordinated the first VCS in Lebanon, and published the first ABA research paper concerned with autism in Lebanon. She returned to the United States in 2017 and has been teaching, conducting research, and contributing to the McNeese Autism Program since.
Jennifer N. Haddock, Ph.D., BCBA-D
Dr. Haddock is an Assistant Professor in the Psychology Department at McNeese. She teaches graduate courses in applied behavior analysis (ABA). Dr. Haddock earned her bachelor's degree at the University of North Carolina at Chapel Hill, where she began working with individuals with intellectual and developmental disabilities (IDD), physical impairments, and genetic disorders. After graduating, she began working at a nearby outpatient center for children with IDD, where she was introduced to ABA. Enthralled by the science behind the practice of ABA, she pursued graduate education. She earned her master's degree in psychology with a concentration in behavior analysis at California State University, Los Angeles, under the supervision of Dr. Henry D. Schlinger, Jr. and simultaneously continued clinical practice under the supervision of Dr. Daniel B. Shabani. She earned her doctoral degree from the University of Florida, under the supervision of Dr. Brian A. Iwata and subsequently completed a 2-year postdoctoral fellowship in behavioral pediatrics at the Johns Hopkins University School of Medicine and Kennedy Krieger Institute under the supervision of Drs. Louis P. Hagopian and Griffin W. Rooker. Dr. Haddock is a Board Certified Behavior Analyst with 15 years of experience implementing ABA-based procedures with individuals with IDD in home, school, community, inpatient, and outpatient settings. Her clinical and academic experiences drive her research interests, which broadly include behavioral assessments, treatment of severe problem behavior, language and skill acquisition, maintenance and generalization, caregiver/staff training, college teaching, and translational research. She is a guest reviewer for the Journal of Applied Behavior Analysis and Behavior Analysis in Practice.
Dr. Cameron Melville, Ph.D.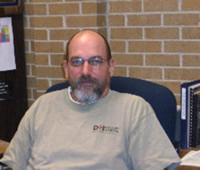 Dr. Melville earned his bachelor of science degree in psychology from the University of Idaho and his master of science and doctorate in psychology with a specialization in Behavior Analysis from Washington State University. He currently serves as the Coordinator of Psychology Graduate Programs, Academic Coordinator for the CIT training and faculty advisor to the McNeese Autism Program. His research interests include animal models of addictions, addictions treatment and basic processes of behavior change. He teaches courses in Principles of Learning and Behavior, Advanced Topics in Behavior Analysis, Laboratory in Behavior Analysis, Addictive Behaviors, Integrated Treatment for Co-Occurring Disorders and History & Systems of Psychology. Dr. Melville is a member of the American Psychological Association and the Association for Behavior Analysis International.
Joanna B. Thompson Ph.D., BCBA-D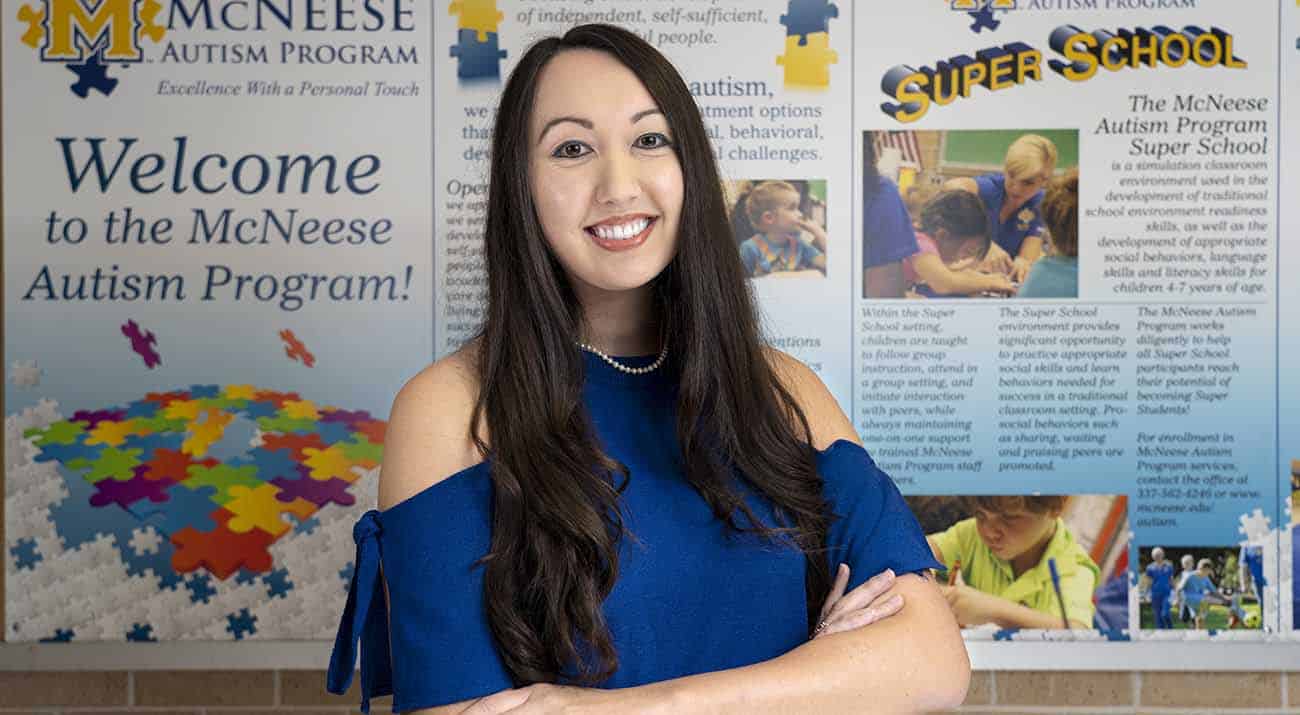 Dr. Thompson is a full-time Assistant Professor at McNeese State University, who teaches online and face-to-face courses in the ABA program. She earned her bachelor's degree and first master's degree in psychology with a dual concentration in experimental psychology and applied behavior analysis from McNeese. She then worked on an additional Master of Science Degree in Experimental Psychology from Texas Christian University before earning her Doctoral Degree in Experimental Psychology under the advisement of Dr. Mauricio R. Papini. She has been a Board Certified Behavior Analyst since 2015. Her clinical experience includes early intensive behavioral intervention, verbal behavior, self-injurious behavior, and working with adolescents. Dr. Thompson is a Behavioral Neuroscientist who studies the neurobiological basis of addictive behavior as it relates to reward. More specifically, her research interests include, but are not limited to: identifying the precursors to addiction–before the behavior becomes habitual; understanding the behavioral and brain processes that underly the initiation into substance use, abuse, and other addictive behaviors; and pharmacological manipulations involving alcohol, benzodiazepine anxiolytics, cannabinoids, and opioids. She currently serves as the principal investigator of the Thompson Animal Laboratory and as the Faculty Advisor for the Student Association for Methods in Behavior Analysis (SAMBA).