McNeese Receives Second Patent for Alligator Research
December 18, 2019 | McNeese Public Relations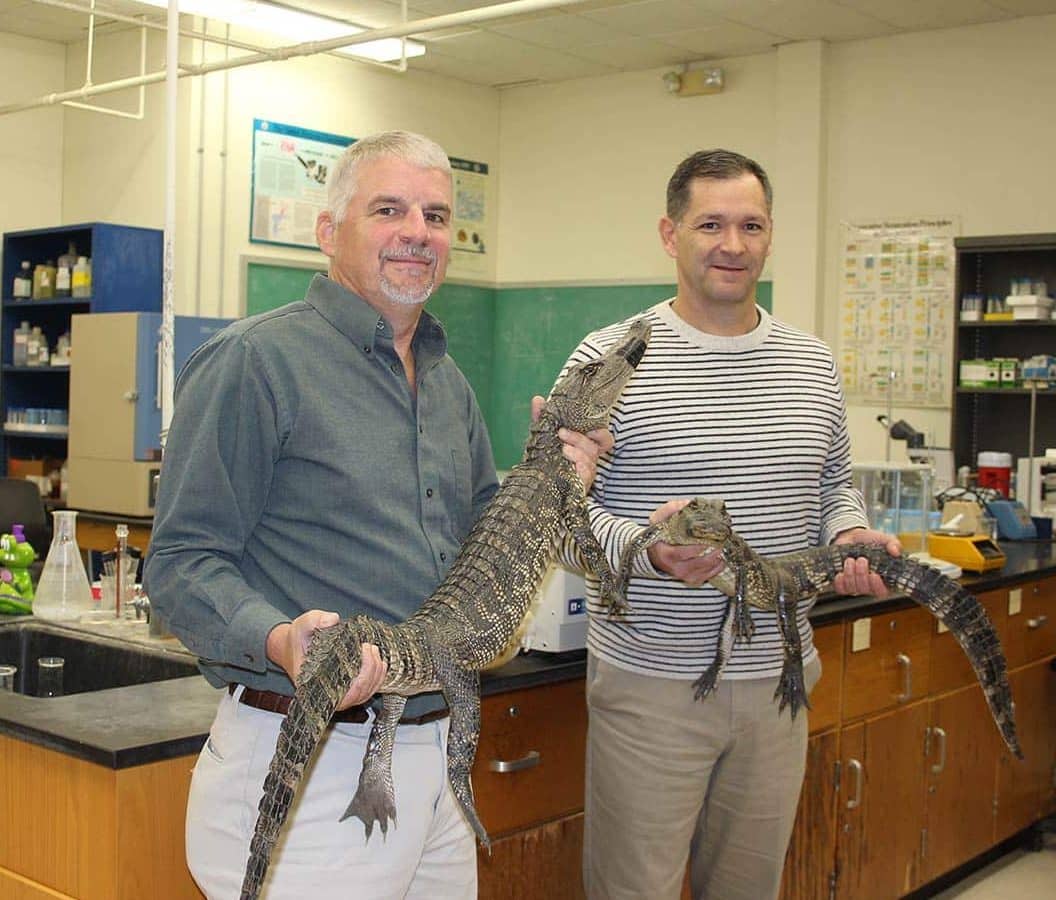 Dr. Mark Merchant, professor of chemistry, and Dr. Chip LeMieux, dean of McNeese State University's College of Agricultural Sciences, have been awarded the university's second patent for a new type of feed supplement for weanling pigs and poultry hatchlings – one made of alligator blood.
LeMieux, whose graduate work focused on alternatives to antibiotic use in livestock, originally approached Merchant with the idea after a guest lecture Merchant gave to one of LeMieux's classes on the unique properties of the alligator immune system. Merchant is a leading researcher specializing in alligator immunology, a field he first began investigating due to a fascination with the alligator's uncanny healing abilities.
"A large number of alligators we see in the wild are missing limbs because they're very territorial animals. The fact that they can survive such an incredibly serious wound living in the marsh where there's lot of potentially infectious bacteria really fascinated me," Merchant says. "My theory was that alligators must have a special immune system that allows them to live this aggressive lifestyle in this environment."
According to LeMieux, piglets are given antibiotics because the stress of the weaning process leaves them susceptible to disease and infection. Antibiotics are also used to combat coccidiosis, a common parasitic disease of the intestinal tract in poultry.
While meat from animals treated with antibiotics is safe for consumption, trace amounts of antibiotics present in meat may help contribute to antibiotic resistance in humans, while waste from animals treated with antibiotics can lead to resistance in the environment.
"We thought maybe alligator blood, because of its unique properties, could represent a natural alternative to antibiotics," LeMieux says. "Chip asked me if I thought it would work and I said, 'No, I really don't, but I'm willing to give it a shot,'" Merchant says.
Merchant provided whole blood, which LeMieux then fed to weanling pigs. A rich source of highly digestible protein, blood meal from hogs or cattle is regularly added to pig and other animal feed in a dried serum form. "But," LeMieux says, "these animals don't have much chance to encounter alligator blood."
Once it was confirmed the pigs would consume the blood, LeMieux tested the effectiveness of the blood against coccidiosis in chickens as opposed to antibiotics. When those tests showed the alligator blood feed was just as effective as antibiotics, he moved onto pig trials, which also returned positive results. To make the process easier, LeMieux and Merchant worked together to develop methods for processing the blood into a serum or plasma.
From this research, LeMieux and Merchant filed for a patent for their product on Dec. 14, 2006.
"The process of receiving a patent through the U.S. Patent and Trademark Office is often long and tedious," says LeMieux. "The office carefully sifts through previous research to determine if the research you've submitted is in fact original before awarding a patent."
However, despite the delay, interest in the project has remained steady. "Just as recent as last month, our farm manager Darrin Goodwin was at a beef cattle producer meeting where attendees were asking about our progress. These industries know that if we can reduce the use of antibiotics or probiotics and utilize a natural product instead, that this might be more favorable to consumers," LeMieux says.

Meanwhile, LeMieux says, he has had luck replicating their results with outside industries, showing that the project continues to have promise.
Now that the patent has been approved, Merchant says he's looking forward to publishing their research and designing new research projects to build on their previous work.
"We have envisioned extending the studies to look at the mechanism of how exactly the blood helps support these animals' immune systems. The next step would be to compare the biochemical health factors of animals receiving no immune support supplement, the typical antibiotic supplement and then the new alligator blood supplement," he says.
The end goal, Merchant says, is to hopefully relate this data to Louisiana's alligator industry. "We're farming hundreds of thousands of alligators per year and we sell the skin and we sell the meat, but the blood is just a waste product. It's exciting to think of the potential applications. This could really be a great benefit to the alligator industry, which is a really important industry in Louisiana, and of course, it would benefit our university as well."
LeMieux also says there are potential opportunities for McNeese to partner with institutions in the future to continue to investigate other applications for this research. "It's exciting, it's good for the university and it's something that needs to be explored," LeMieux says.
Want more stories like this one sent straight to your inbox every week? Sign up for our McNeese eNewsletter!
The Office of Marketing and Communications
4205 Ryan Street
Lake Charles, LA 70609
337-475-5640
communications@mcneese.edu