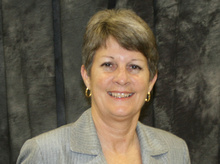 Dr. Cheryl Northam, professor of health and human performance at McNeese State University, received the 2012 Honor Award presented by the Southern District of the American Alliance for Health, Physical Education, Recreation and Dance at the annual district conference in Orlando, Fla.
The Honor Award recognizes meritorious contributions to the fields of physical education, health education, recreation and/or dance or to the profession through such allied fields as science and education.  
Northam has served the Southern District AAHPERD, which includes 13 states, in various capacities since 1972, including vice president for the Sport and Leisure Division, chair of the Taylor Dodson Young Professional Award Committee, a member of the W. Clyde Partin Service Award Committee and tri-chair of the 2010 Southern District AAHPERD/Louisiana Association of HPERD Gulf South Outdoor Education and Recreation Conference in Baton Rouge.
She has held multiple leadership roles for LAHPERD, including president, parliamentarian and secretary, as well as chairing numerous committees. She is a frequent presenter at both state and district conventions and has received the Louisiana LAHPERD Presidential Award and the LAHPERD Honor Award.
Northam received her bachelor's and master's degrees in physical education from Sam Houston State University and her doctorate in physical education from Texas A&M University.
McNeese government students Jackson Brown, Catherine Brooke David, Joneisha Douglas, Emily Dickerson, Emma Fontenot and David K. Whetnall, and Drs. Thomas R. Laehn, McNeese State University assistant professor of government, Rathnam Indurthy, McNeese professor of government, and Henry B. Sirgo, professor of political science, recently attended the 2012 meeting of the Louisiana Political Science Association at Louisiana State University in Baton Rouge.
               
Laehn was re-elected for a second term as LPSA president. He also presented a paper, "Theories of Legislative Organization and the Composition of State Legislative Subcommittees" to the American Politics panel, and another paper, "Marx's Lucretian Project," to the Continuities and Discontinuities in Western Political Thought panel.
Indurthy served as a discussant on the Comparative Politics panel while Sirgo served as a discussant on the American Politics panel and chaired the Undergraduate Research I: Empirical Political Science panel where Brown presented a paper, "A Subjective Practice: Character and Practices Amongst U.S. Supreme Court Justices," and Douglas presented a paper titled "Enslaved."
               
Fontenot presented a paper, "Political Philosophy, Myth and the Polis" to the Undergraduate Research II: Political Theory panel.
Three Master of Business Administration students in the McNeese College of Business presented papers at the Annual Conference of the Academy of International Business (Southwest chapter) under the Federation of Business Disciplines in New Orleans. Michele Medina presented a paper titled "Factors Contributing to the Recent Crisis in the U.S. Financial Industry," Joshna Maharajan presented a paper titled "U.S. Brainpower Gain and Selected Trade Gain: Do They Correlate and Cause?" and Morgan Murray presented a paper titled "U.S. Outsourcing of Heart and Head: Boon or Bane?"