Health and Human Performance Education Complex

(March 2, 2017) The McNeese State University Department of Health and Human Performance is prepared for changes as construction is underway for the new Health and Human Performance Education Complex.
Dr. Michael Soileau, the head of the department, is thrilled to see the addition of this new complex, which will contain six classrooms, 12 faculty offices and a lab, as well as a sports training center. It is currently scheduled for completion in June 2018.
Locating the building across the street from the sports medicine and rehabilatation strength and conditioning facilities for the student-athletes in the Doland Athletics Complex will provide lab settings and internship opportunities for students majoring in health and human performance disciplines, adds Soileau. The facility will also provide a future home for Cowgirl volleyball, Cowboy and Cowgirl basketball, Banners at McNeese and numerous other performing arts events.
Although Soileau's department falls under the Burton College of Education, many of its programs prepare students for careers beyond those of coaching or teaching. He says this new facility will help the department reach its goals in preparing students for growing careers in exercise science, sport and wellness management and sports medicine.
The sport and wellness program is designed for those students interested in the business side of athletics and the wellness industry, while the sports medicine program is designed for those students interested in seeking a career as an athletic trainer, which now requires a master's degree in athletic training.
"The facility's construction comes at a time when many of the programs are faced with new requirements," explains Soileau. "A bachelor's degree used to be the only requirement of our sports medicine graduates to get a job. But by 2020, all certifications will require a master's degree. In addition to athletic trainers, students earning this degree will go on to find careers as nutritionists and as injury evaluators in athletic programs across the country."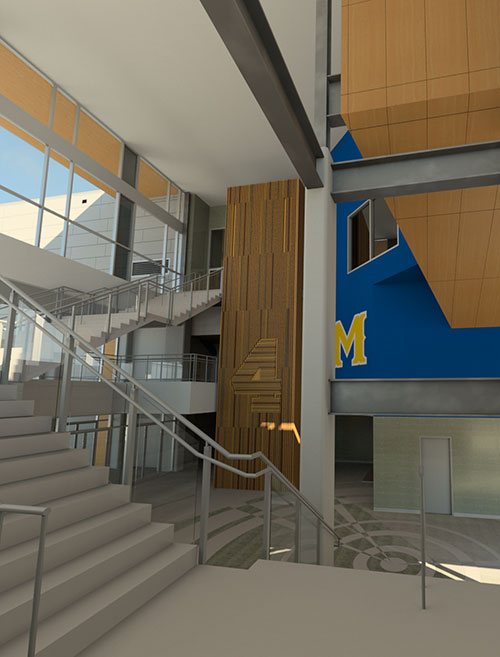 Exercise science, the most rigorous degree program offered by the department, prepares students for additional education in the field of physical therapy. "While in recent years physical therapists usually held a master's degree, the certification now requires a full doctorate. This makes entry into PT graduate programs extremely competitive," says Soileau.
According to Soileau, McNeese's pre-PT program has a higher acceptance rate than any other school in Louisiana for students applying to physical and occupational therapy programs across the country. He attributes this success to a high level of student and faculty involvement.
 "We tell every incoming freshman that they have to keep their grades up," he says, "and we tell all of the students that they need an internship or a job at a clinic nearby, and they need to be active in some kind of student organization such as the Pre-PT Society."
On a Monday night, at a meeting of the Pre-PT/OT society, well over 50 students crowd the room. "Many of these students are freshman," remarks the society's president, David Suarez from Sulphur. "They are mostly interested in what is involved in the program."
One of the students, Claire Anway from Seattle, Washington, came to McNeese because of the high PT acceptance rate of graduates of its exercise science program. "The program is very student oriented," says Claire, "and the professors work with you to help you achieve your goals."
"It's not easy getting into these physical therapy programs," Soileau says, "but as we tell our students, if you're willing to work hard, then we'll work just as hard for you."
Advising for summer and fall registration at McNeese will be held March 27-April 7 and priority registration for both begins April 10. For more information about programs in the McNeese Department of Health and Human Performance, call 337-475-5374.