Imagine this: in the heart of campus, under the tangled branches of the historic oaks, lives the new Student Union. Facing towards the quad, the replacement for the Old Ranch blends traditional and contemporary design, anchoring our campus in its history while incorporating modern vibrancy, transforming the Student Union from a place to a destination.
But the new Student Union is just the beginning. With a broad, bold vision for the future, this plan would also add a new green thoroughfare aptly called "Cowboy Way" leading from Frazar Memorial Library straight into the heart of campus, as well as a new pedestrian bridge, walkway and terrace to the revitalized Contraband Bayou.
This planned transformation will see new buildings constructed and more amenities added to create campus that encompasses everything you could want from your university experience.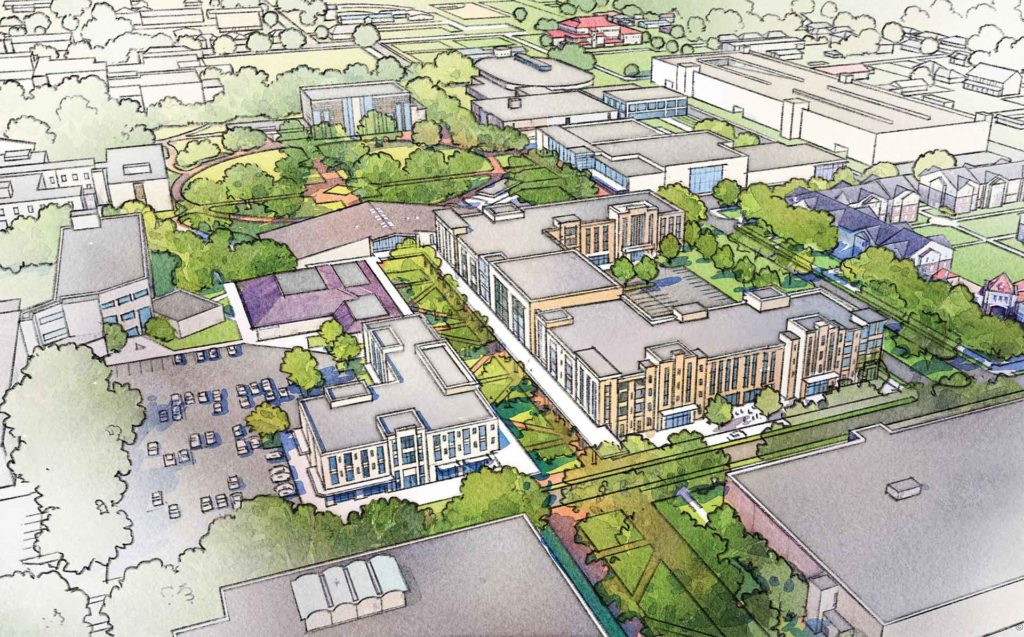 Beautiful
Our plan is focused on you and giving you the best campus experience possible. That means integrating more green spaces, making campus more pedestrian friendly and incorporating new buildings with stunning, modern designs. We want McNeese to be a place you're proud to come home to, and having a beautiful campus that showcases McNeese's prestige, history and commitment to students is at the heart of this vision.
Cutting edge
The Old Ranch, the Bookstore, Collette Hall – all of these buildings have served students well for nearly seventy years. But these are the places where campus culture should live and thrive, and that's impossible when the buildings are stuck in the past.
This plan will transform the campus experience by bringing it into the 21st century. When you have hours between classes, we want you to feel excited instead of stuck – we want you to look forward to relaxing in our new technology-enhanced lounge or knocking out homework in our state-of-the-art study spaces in peace and comfort.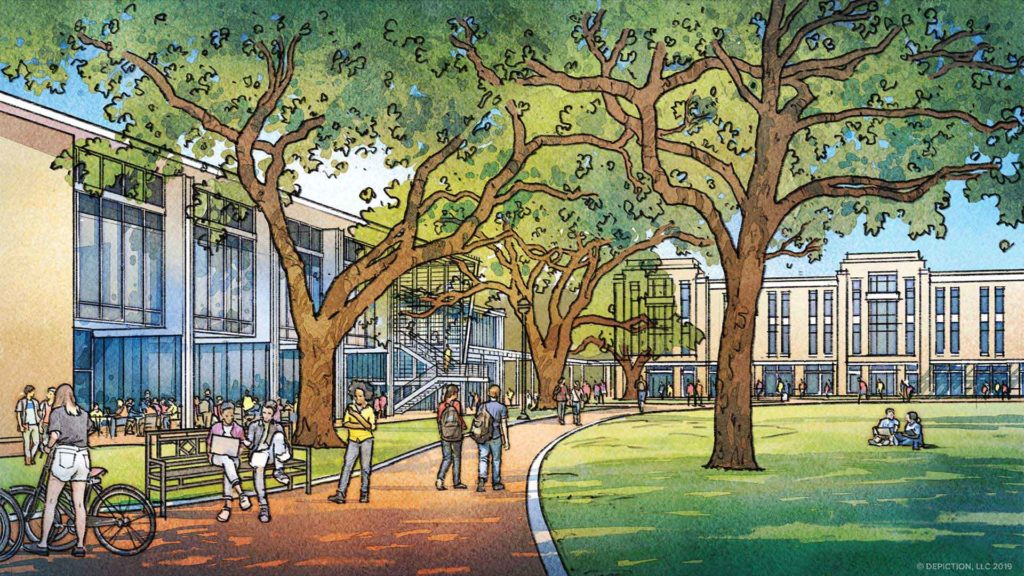 Connected
While McNeese is seen as a "commuter" school since most students don't live on campus, we want to give you a reason to stick around. The college experience is about the friends you meet, the events you attend and the memories you make while you're here. This is why we want the new Student Union to replace the Old Ranch as the heart of McNeese – a place where something is always happening, where there are always new friends to discover and fun activities to join in on, a place vibrant with campus life, culture and the Cowboy community. We want you to feel connected not just on campus, but to campus.
Inclusive
The McNeese master plan is focused on you and making your college experience more exciting and dynamic. We want you to feel included everywhere on campus, which means expanding campus housing and focusing on student, faculty, and community services, and making these services more accessible to you. We believe the more welcome you feel, the more McNeese feels like home and the more you take away from your university experience.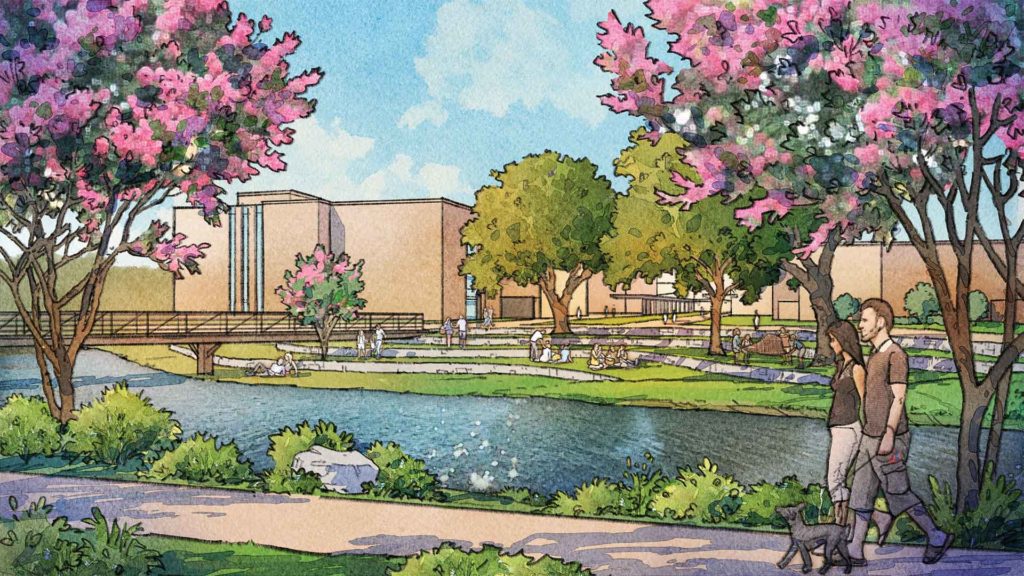 Functional
We've heard your concerns – there's nothing more frustrating than trying to find parking when you're already five minutes late for class. As the semester wears on and stress builds, that can be the straw that breaks the "go to class" back. More parking means less stress, shorter commutes and more room for the McNeese campus to grow into the future.
Green
McNeese is committed to environmental stewardship and preserving the natural beauty of Southwest Louisiana. Alongside incorporating more green spaces on campus, the new buildings included in the master plan integrate sustainability and energy efficiency into their designs.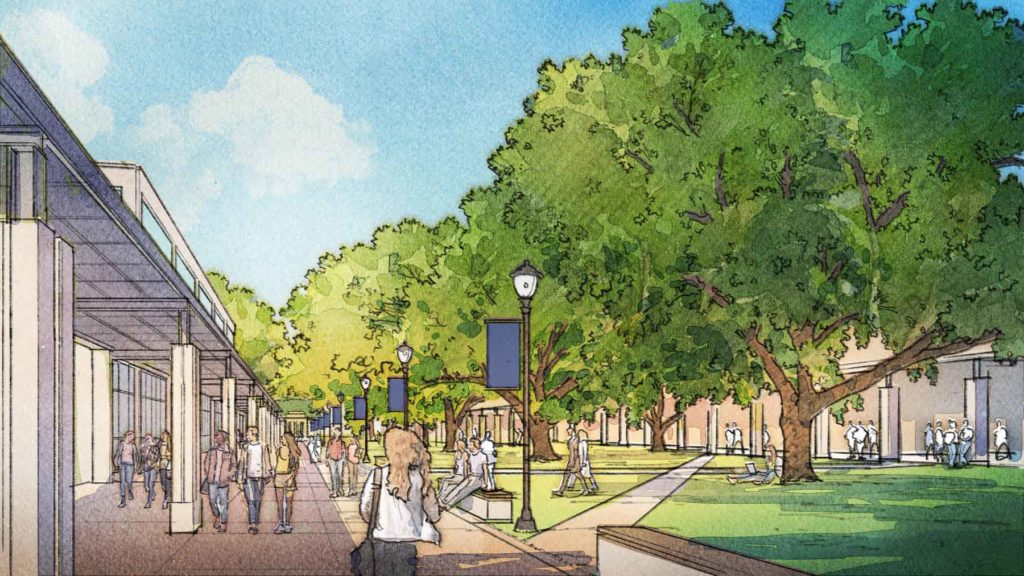 What's Next?
More than half of the funding has already been secured for phase one, which means this new McNeese could start to become a reality before your eyes. But before that can happen, you have to vote Yes — for your university, for your community, for our future.
Have questions? Send us a message!