When: Saturday, April 17 @ 2:00 pm | Where: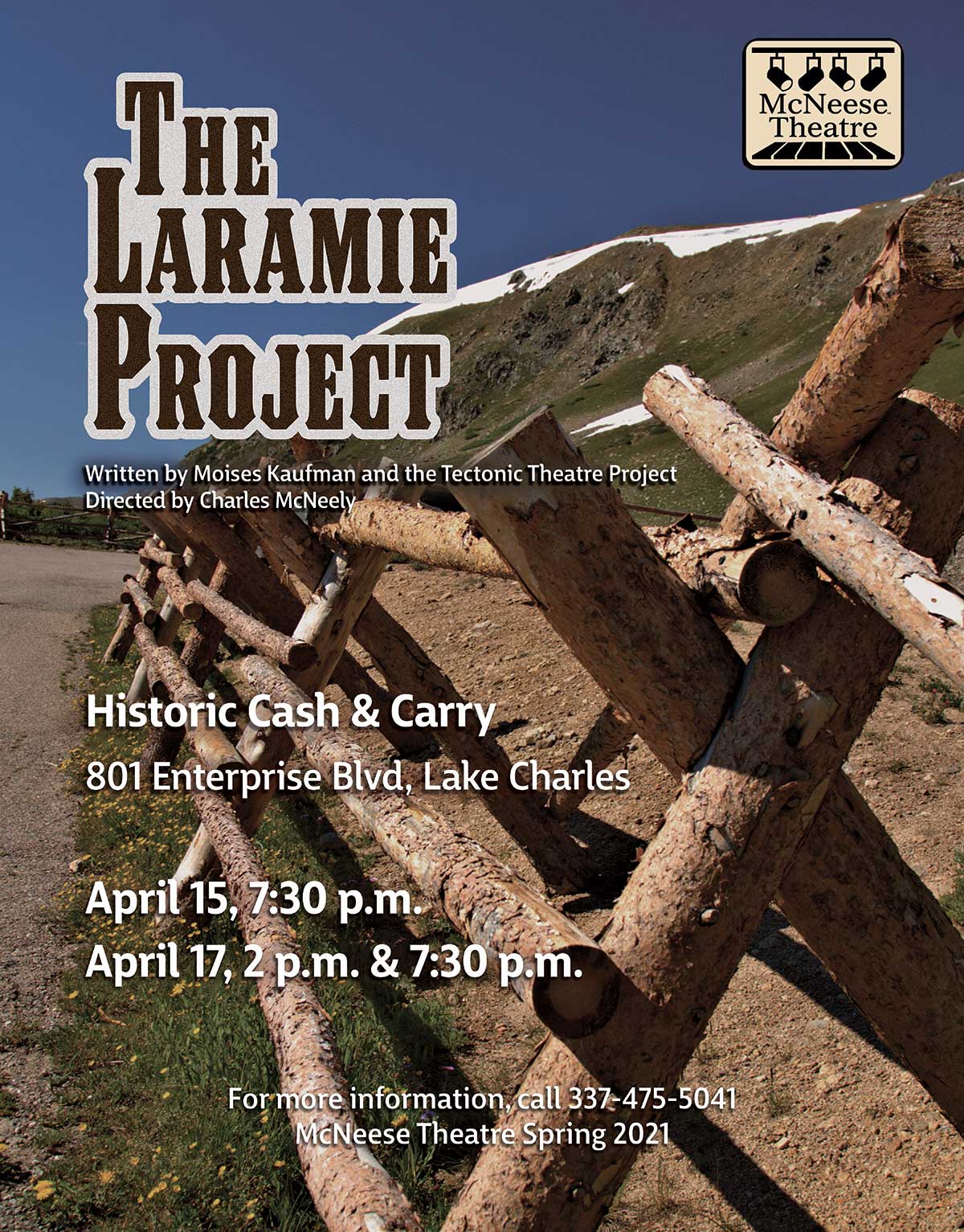 McNeese State University will present "The Laramie Project" on Saturday, April 17, at 2 p.m. and 7:30 p.m. All performances are open free to the public and will be held at the Lake Charles historic Cash & Carry Building at 801 Enterprise Blvd. Donations will be accepted.
"The Laramie Project" tells the story of a community shaken by violence after Matthew Shepard, a gay University of Wyoming student, was brutally killed in Laramie, Wyoming, in 1998. Following the brutal crime, theatre director Moises Kaufman and the Tectonic Theatre Group traveled to the town to interview residents to learn how the murder had affected the community. "The Laramie Project" is a compilation of those interviews and its characters are the townspeople. With each actor playing multiple roles, the play seeks to explore the capacity in people and communities for hatred and compassion, prejudice and tolerance.
"The Laramie Project" is directed by McNeely and stars Kassie Coltrin, Dylan Conley, Tyron Corpuz, Taylor Novak-Tyler, Anna Sternaman, Jennifer Tolbert, Carson Turgeon and Jeffrey Underwood as the people of Laramie and the members of the Tectonic Theatre Project.
The play's crew includes Paul Pharris as technical director/set and light designer, David Ifland as sound designer, Lara Lignitz and Peyton Stanford as costume designers and Kaleiah Fulgence  and Kenzi Whitman as assistant stage managers.
Sorry, we couldn't find any posts. Please try a different search.
The Office of Public Relations and University Events
4205 Ryan Street
Lake Charles, LA 70609
337-475-5640
publicrelations@mcneese.edu