Theatre Production – "The Shape of Things"
When: Sunday, February 16 @ 2:00 pm | Where: Squires Recital Hall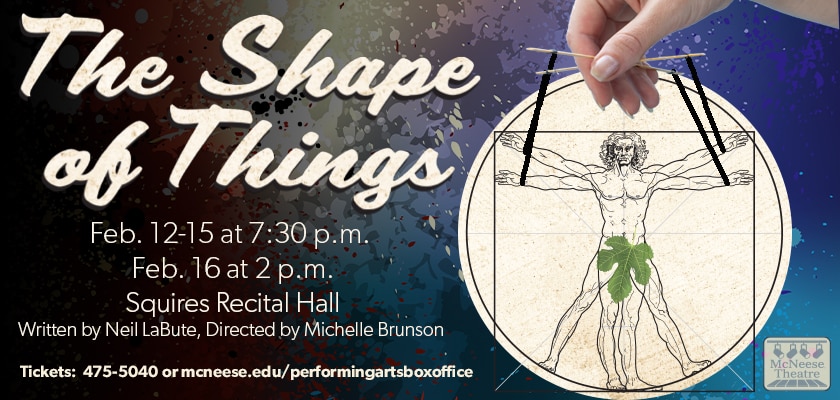 McNeese Theatre will bring the powerful and poignant play The Shape of Things to the stage this February.
Written by Neil LaBute, this modern work explores the nature of art and the moral responsibility of the artist, and the ends people will go to for love.
Recommended for adult audiences, it tells the story of Evelyn, a graduate student in art at a mid-western college, and Adam, a nice, shy, scruffy security guard in an art gallery.
When Evelyn shows interest in Adam, the couple begins an intense and passionate relationship. Evelyn begins to reshape Adam's world (and Adam himself), culminating in a shocking climax that brings human manipulation to a new level.
Directed and designed by Michelle Brunson, "The Shape of Things" stars Peyton Stanford as Adam, Lara Connally as Evelyn, Anna Sternaman as Jenny and Brett Chase as Phillip. Also starring are Hope Wasson as the understudy for Evelyn, Joel Jacob as the understudy for Adam, Madison Lewis as the understudy for Jenny, Jacauez Morgan as the understudy for Phillip, Rhett Goodner, Himshree Neupane, Huy Dang and Essence Means.
Call 337-475-5040 or go to mcneese.edu/performingartsboxoffice for reservations.
Persons needing accommodations as provided by the Americans with Disabilities Act should contact the ADA Coordinator at 337-475-5428, voice; 337-475-5960, fax; 337-562-4227, TDD/TTY, hearing impaired; or by email at cdo@mcneese.edu.
Sorry, we couldn't find any posts. Please try a different search.
The Office of Public Relations and University Events
4205 Ryan Street
Lake Charles, LA 70609
337-475-5640
publicrelations@mcneese.edu