When: Tuesday, February 11 @ 1:00 pm | Where: Burton Business Center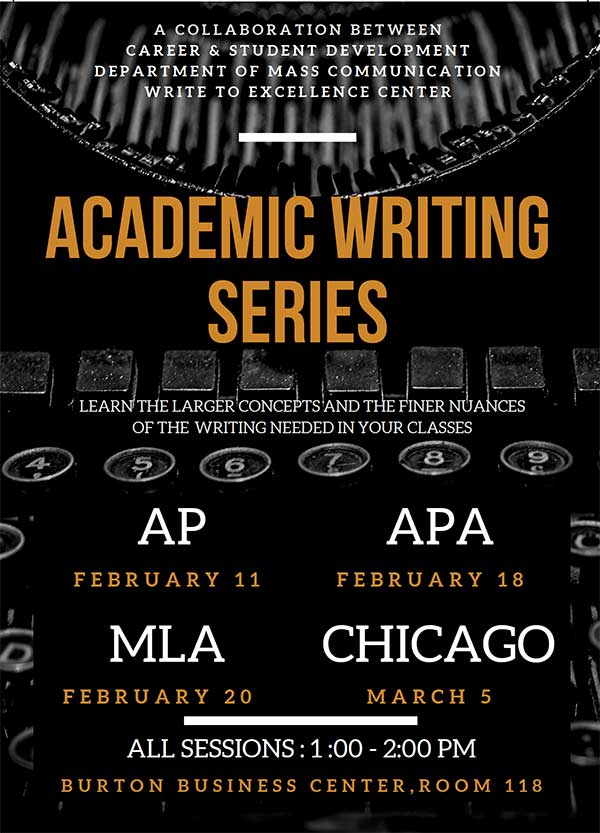 The McNeese Write to Excellence Center (WTEC) is teaming up with the Career and Student Development Center and the Department of Mass Communication to co-host an Academic Writing Series. An AP style workshop will be held 1-2 p.m. Tuesday, Feb. 11 in the Burton Business Center, Room 118.
AP Style, also known as the Associated Press Style, is used by newspapers, magazines, websites and in public relations and other media offices. A basic knowledge of AP style is essential for those who want to work in print journalism or other media outlets. At this workshop, students will have the chance to learn more about how to successfully write in AP style.
Other workshops will be offered in APA, MLA and Chicago style throughout the semester.
The WTEC is a free resource to help students through one-on-one tutoring sessions. No matter a student's degree program, tutors are prepared to help students develop a wide variety of writing skills, including outlining, content development, thesis statements and organization.
The Career and Student Development Center helps students develop their of professional skills and connect with employment, internship and networking opportunities.
Sorry, we couldn't find any posts. Please try a different search.
The Office of Public Relations and University Events
4205 Ryan Street
Lake Charles, LA 70609
337-475-5640
publicrelations@mcneese.edu