Taylor Mardis Dewoody, MA, BCBA, LBA
Staff Behavior Analyst – Taylor Mardis DeWoody, MA, BCBA, LBA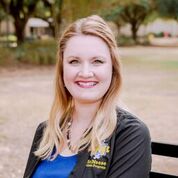 Taylor graduated from McNeese State University with a B.S. degree in Psychology in December 2013, as well as with a Master of Arts in Psychology, with a concentration in Applied Behavior Analysis in December 2015. She has been with the McNeese Autism Program since 2015.
Taylor is a Licensed Behavior Analyst and a nationally Board Certified Behavior Analyst. She has presented research to the Gulf Coast ABA Conference and the Association for Behavior Analysis International (ABAI) Autism Conference. She is interested in multiple subjects within behavior analysis including theoretical concepts, verbal behavior, and severe maladaptive behaviors.
Taylor also serves as the internship coordinator for graduate students completing the BACB pre-approved course sequence and intensive practicum. She provides training, supervision, and mentorship for graduate student interns as well as facilitating intern development in key interest areas. She is the lead Behavior Analyst for patients receiving services for aggressive behaviors, self-injurious behaviors, and/or feeding problems.