Campus Status: Open with Phase 2 Guidance
Campus Police - 337-475-5711 (Available 24/7)
Campus Guidelines in Effect
If Exposed to COVID-19: YOU MUST
Key Objectives for Phase 2 Guidelines
Return administrative employees and staff to campus safely beginning June 8th
Continue telework or leave accommodations for vulnerable* populations, employees with child care needs or extenuating circumstances.
Faculty, instructors, graduate assistants, graduate students and teaching assistants may return as needed
Follow all CDC, State and regional guidelines
Common and high traffic areas will be disinfected when not occupied
Non-essential travel can resume
Organized youth activities, such as day camps and youth sports camps, can open with strict guidelines for social distancing and proper hygiene.
*Vulnerable Populations-Employees who are elderly, or employees who reside with or care for elderly individuals, and/or individuals with underlying health conditions including high blood pressure, chronic lung disease, diabetes, asthma, and those whose immune system is compromised from chemotherapy for cancer and other conditions requiring such therapy.
Employees must maintain 6 feet spacing protocols and proper hygiene:
Masks and face-coverings are required for employees interacting with the public and in all campus buildings where maintaining six feet of social distancing is not possible.
Wash hands often with soap and water for at least 20 seconds.
Use hand sanitizer if soap and water are not readily available.
Avoid touching your eyes, nose and mouth with unwashed hands.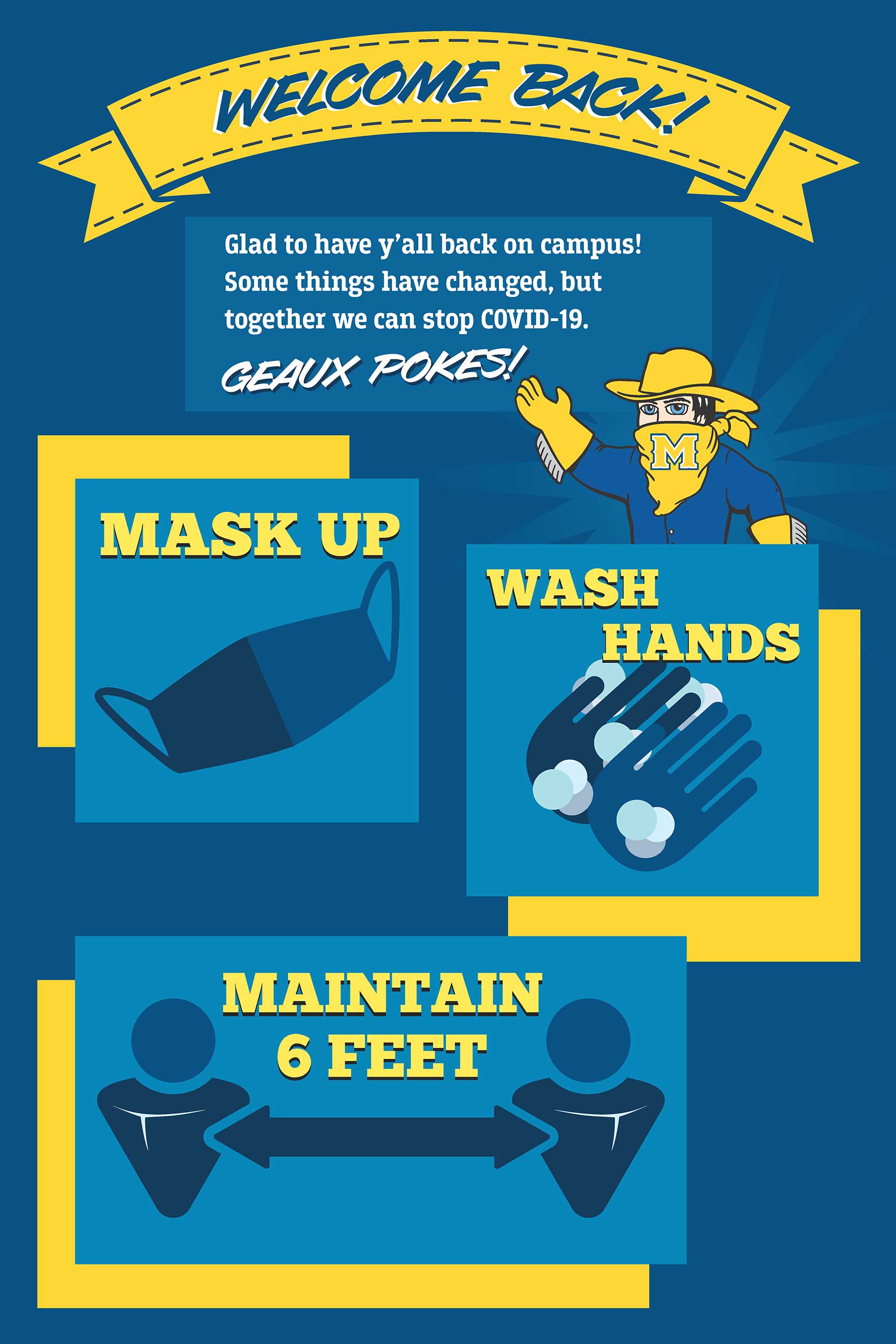 Download Infographic Media
Frequently Asked Questions
Quick Guide to dealing with a positive COVID-19 test or direct exposure:
To view or change phone numbers and alternative email addresses in the McNeese Alert System, go to the MyMcNeese Portal and click on the "Self Service Banner" tab at the top then click on "Personal Information."